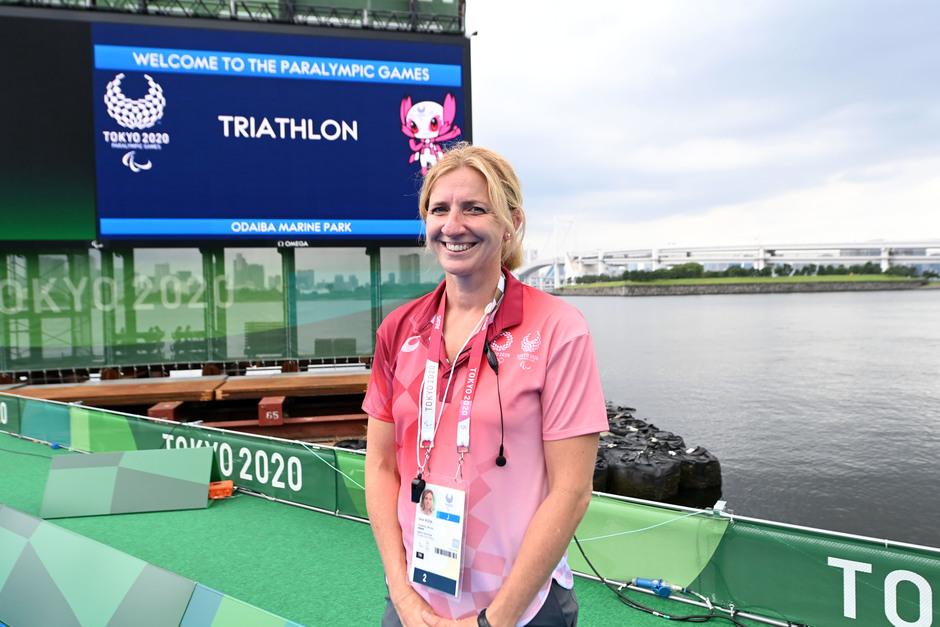 Doran matka tuomariksi
My Technical Official roles started as a hobby and it has changed a bit over the years, but it is still something what I am very passionate about until today, I love what I do.
I was a national swimmer, before I became a triathlete, competed on international level and made it to the national team for Hungary. I think I was a good triathlete but not good enough to make it to the Olympics, so I decided to study and started working.
As a passionate person about sport and triathlon, I continued as an Age group triathlete and qualified for the Hawaii Ironman World Championship 2000. I was 25 years old that year.
After competing many years, started a family and we had 3 children in a short period of time, so I was busy with the little ones, had no time for anything. I started missing triathlon, so I decided to help athletes to race, compete on local and international level.
Started in Hungary with national competitions, passed my exam and started officiating and supporting events. Level 1 exam first, later Level 2 in 2012, 2016 and 2020 (revalidation) and now I have been invited to the Level 3A course in 2021 November in Madrid.
Some Age groupers needed support and help regarding the rules especially the first timers. I could see that it is so complicated for them to put all the things together they need to know before hand, concentrate, trying to finish and achieve their goals. We as TOs, we are there to help, support before, during and after the race, we are there when they are excited, when they crash on the bike, we help them as safety is our first priority. Helping is something that I love to do, guide them sometimes in difficult situations. We are there when they cross the finish line, we are happy when these athletes reach beyond their dreams, it is very emotional. I have been on that road, trained hard, sometimes gave up, sometimes got penalty because I was drafting not knowing the exact rules.
Elite athletes are a completely different field as they need to know the rules, we need to make sure that the race is safe and fair, no advantage gained.
Amazing to see the worlds' best Elite athletes competing for the best possible results, it is fascinating, and it is a fantastic feeling to be part of a national or/and international triathlon family. Technical Officials we work together in a team, as it is the only way to deliver the sport events, we support each other, help, educate the ones who has less experience.
I officiate as a Self Founded Technical Official to have more international experience, we combined it sometimes with family vacation. After the national level, I started international level, applied and worked hard from early morning until the last athlete crossed the finish line. It is very tiring sometimes, rain or shine we are out there, warm or cold conditions we stand by while they are out there on the course.
Tokion kisat olivat unelman täyttymys
Selected for the Tokyo 2020 Summer  Paralympic Games as a Technical Official representing Hungary was something I was dreaming about and it was an amazing experience.
I admit that the athletes with disability are heroes in my eyes, so I have started helping athletes on the Special Olympics World Games (athletes with intellectual disability) and became the Global Sport Advisor for Special Olympics International, responsible for the development of triathlon.
2021 finished for me with a big assignment as I was selected to be the Head Referee in Abu Dhabi World Triathlon Para Championship and WTS event.
Miksi saa
Why to become an official? We help, we educate, we support, we work together on national or international level. We make sure that the competition fair and safe. We are part of the World Triathlon family, we are all passionate about our sport, we are friends, and we love what we do…. Come and join us and we might meet day!